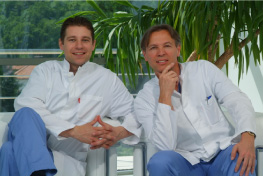 Cosmetic Surgery
in Europe with Dr. Toncic
SAFE, PROFESSIONAL AND DISCRETE
Open and individual approach, based on the mutual trust has been the basis of our relationship with patients for 20 years.
If you put trust in Dr. Rajko Toncic and Dr. Dinko Toncic, you have chosen a team of experienced cosmetic surgeons. The expert team performs plastic surgery procedures in a new exclusive Clinic in residential part of Zagreb, Croatia.

Dr. Rajko Toncic, chief surgeon, has performed more than 15,000 operations in his surgical practice of 30 years. Dr. Rajko Toncic graduated from the Faculty of Medicine, University of Zagreb, in 1972. After graduation, he worked as a resident specializing in general surgery for a year and a half in Germany. He continued his education by specializing in otorhinolaryngology and the pertaining part of cosmetic surgery at the renowned University Clinic for Otorhinolaryngology in Cologne, Germany. Dr. Rajko Toncic visited the Clinic for Cosmetic Surgery of Professor Ivo Pitanguy in Rio de Janeiro. He is a frequent guest of the well-known Manhattan Clinic for Plastic Surgery, New York, as well as of similar institutions in Chicago and Cleveland.

Dr. Dinko Toncic graduated from the Faculty of Medicine, University of Zagreb, Croatia in 2000. After graduation, he continues his work in Cosmetic Surgery Clinic Dr Toncic. Dr Dinko Toncic continues his work as a resident doctor on some of the most famous clinics in Zagreb. He successfully passed his specialist examination in 2006, and ever since he has been working as an otorhinolaryngology specialist and head and neck plastic surgeon in Cosmetic surgery Clinic Dr. Toncic.



Thanks to the valuable extensive experience, cosmetic operations carried out by Dr. Toncic and his team have become a routine. Nevertheless, the approach to each patient is individual. Knowledge of various surgical methods enables Dr. Rajko Toncic and Dr. Dinko Toncic to choose the most appropriate procedure for solving your aesthetic problem.

Our certified surgeons use a range of surgical techniques that were further perfected by Dr. Rajko Toncic during his rich medical and surgical career. Some of the special methods he uses are cosmetic and functional nose correction (rhinoplasty), cosmetic eyelid surgery (blepharoplasty), breast augmentation (breast enlargement), ear pinning (ear correction or otoplasty), male breast reduction (correction of gynecomastia), female breast reduction using the small vertical incision and facelift surgery (full facelift and mini facelift) that enable excellent results.



Wide experience and professionalism of our team and state-of-the-art technology and equipment make our clinic an excellent choice for cosmetic surgery procedures. Our fluency in English and German allows us to easily communicate with our patients as it provides them with the feeling of confidence.

Special package pricing is available for foreign patients and it is cost effective.


| | |
| --- | --- |
| Cosmetic Surgery Procedures | Experienced Medical Team |
| Procedure Price List | (USD $) |
| Rhinoplasty | 3000 $- 4500 $ |
| Demabrasion | 1800 $ |
| Otoplasty | 1800 $ |
| Chin Liposuction | 1500 $ - 2250 $ |
| Blepharoplasty | 2000 $ - 3000 $ |
| Breast Enlargement | 4800 $ |
| Face Lift | 5850 $ |
| Breast Lift & Reduction | 4800 $ - 5500 $ |
| Forehead Lift | 3900 $ |
| Correction of Enlarged Male Breast | 3000 $ |
| Botox | 0450 $ - 600 $ |
| Stomach Liposuction | 3000 $ |
| Chemical Face Peel | 1800 $ |
| Liposuction of legs | 2700 $ |