---

Beijing Puhua International Hospital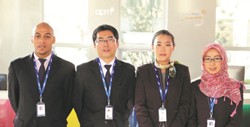 Beijing Puhua International Hospital (BPIH) has been delivering international-standard healthcare from Beijing, China since 1995. Since that time, BPIH has kept its lead in Beijing, and today works even harder to develop Tomorrow's Health Care, and provide it to our patients, today.
Well over 50% of BPIH patients are international. They come here from the Americas, from Europe, Russia, Africa, Australia and the Middle East. They come for the Best in Neurological/Neurosurgical diagnostics and care: this is our heritage. They come for Traditional Chinese Medicine: this is our culture. They come for the most advanced Biotechnology available: this is our commitment.
Beijing Puhua International Hospital is a leader in providing international healthcare, comfort and service. The facilities and staff are exceptional, and BPIH is the standard for the advanced diagnostic, medical and surgical care that this facility is famous for.

Contact
Beijing Puhua International Hospital
#12 Tiantan Nanli, Dongcheng District
100050 Beijing, China
Tel: +86 10 6703 5566 EXT 520 | Fax: +86 10 6706 1799
Email: info@puhuachina.com | http://www.beijingpuhua.com