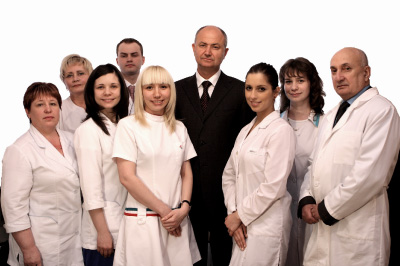 Dr. Vorobiev with his Medical Team


What can Rehab Clinic "Dr. Vorobiev" do for you?
•Because we offer a responsible high quality treatment of drugs, alcohol, benzodiazepines, barbiturates and pathological gambling addiction.

•Dr. Vorobiev's clinic employs five different methods for a completely painless detoxification from heroin, methadone, subotex and other opiates and alcohol. The patient's detoxification must be painless and quick (two to four days). The patient maintains good appetite, mood and sleep.

•The main reason lies in Dr. Vorobiev's method of treating the brain in such a way that one becomes completely indifferent to drugs and alcohol. In place of the former all encompassing desire to take drugs - surprise at what one could have found attractive.

•Aversive therapy is used to create a strong distaste for drugs, alcohol and gambling, which aids in further assuring the success of the new-found healthy lifestyle. That insures the protection against of relapse.

•We carry out serious physical and psychological examinations included the treating of comorbid illnesses.

•Guaranteed discretion and an option of anonymous treatment.

•Individual approach in everything: starting with specific medical help, psychotherapy and ending with the diet. Food is prepared in accordance with the patient's religious beliefs or possible food allergies.

•Long-term support through out-patient treatment sees that everything possible is done to aid the patient retain sobriety.

•Doctors are available 24-7 should out-patients come to need help at any time.